"It must be some kind of record," Amanda Spratt pondered her eleven-year tenure at GreenEdge as she rang in the new year wearing brand new colours, debuting her Trek-Segafredo kit in the kick-off to the summer racing season in Australia.
"I was definitely a bit nervous. I was also laughing to myself a bit at the same time because, yeah, I've been with GreenEdge for 11 years," Spratt told Cyclingnews in an interview over the phone from her parent's home among the Blue Mountains in New South Wales.
Spratt's name has become synonymous with the Australian outfit after forging a successful career since signing her first pro contract with Orica-AIS in 2012. Newly named Jayco AlUla, the home team typically fields one of the strongest rosters during the summer racing calendar. 
Spratt's absence will be noticeable after her career move to rival team Trek-Segafredo, which could give the American outfit the winning edge this year.
"It's been nice to have a long time here at home in Australia, and not feel rushed, and to get a nice training block in to prepare for the racing. It's my first normal pre-season at home since 2019. So, that also feels pretty nice," said Spratt, who arrived in Australia in November.
COVID-19 lockdowns, illnesses and injuries have marred her previous three seasons, and she most recently underwent successful surgery to correct iliac artery endofibrosis heading into 2022. However, she said it took a year to rebuild her strength and that this off-season had gone better than planned. 
Spratt has spent some much-needed time at home with her family, and combined with four or five weeks of training in the warm summer sun, she feels ready to test her legs in competition.
"I got time to see my three little nieces and a nephew, so spend time with them, and I'm at home with mom and dad, so getting spoiled by mom. I've been training with my brother again. And I've been down at the local cycling club doing some races, some normality, and just enjoying it."
Spratt is already off to a strong start with a second-place finish in her debut in Trek-Segafredo colours – while racing for the Novotel Prestige Jayco composite team – at the Citroën Bay Crits. Still, she's targeting some of the bigger races later in January at the Australian National Championships and the two Women's WorldTour events, Tour Down Under and Cadel Evans Great Ocean Road Race.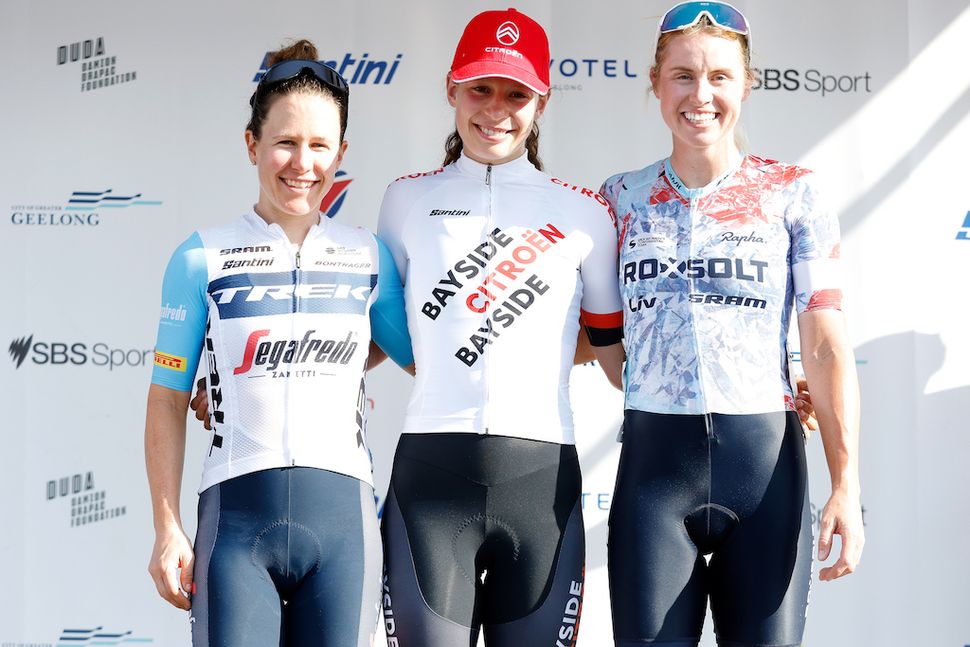 "I want to have a really good January because that's something I haven't been able to do since 2020. I haven't won a race since Tour Down Under in 2020. So, I'd love to be able to put my arms in the air with the team in January," said Spratt, who has won the national road race title in 2012, 2016 and 2020 and secured three back-to-back overall titles at the Tour Down Under in 2017, 2018 and 2019. 
"I'm hoping to be racing well, and it's a target of mine; I'd love to race well in Australia. I want to feel like I'm there and racing with the top riders again. We saw glimpses of that in the last season, but to be honest, it took a long time to return for my surgery. Throughout last season, I never really got that strength back," Spratt said.
"There was a bit of bad luck here and there with COVID and crashes and whatnot. But in the end, I didn't quite get that strength back. So I want to be there in the finals, feel like myself, feel stronger again, and race with my teammates to get as many wins [as a team] as possible."
Like the first day of school
Spratt signed a two-year contract that will see her racing for Trek-Segafredo through the end of 2024, in what she called a "new challenge."
In October, she travelled to the Trek Bikes headquarters in Madison, Wisconsin and the SRAM offices in Chicago, Illinois. She met team sponsors, management and staff, and her new teammates in a relaxed environment without training or goal-setting expectations.
"It was just cool to step foot into the Trek headquarters and see all the people that work behind the scenes and to meet and chat with everyone and see how involved everyone is, and how much people care about the team and what we're doing, and the results we're getting," she said.
"They unveiled a new banner for Ellen van Dijk becoming a [time trial] world champion and for Elisa Longo Borghini winning Paris-Roubaix, all right in the middle of the factory where everyone's building the bikes that we're racing on. It was nice to experience and see that sort of connection.
"We also played ice hockey and soccer and had some nice evenings out, so it was quite a mix of business and fun – a nice place to meet everyone."
Spratt is one of five new riders at Trek-Segafredo, including Lisa Klein, Brodie Chapman, Ilaria Sanguineti, and Gaia Realini. She said that meeting her new team for the first time felt like the first day at a new school, even though she's starting her twelfth season in the peloton.
"I'm 35 years old and a bit nervous and just trying to work out how it's all going, and I said a few times, 'I'm gonna be that person that's asking all the dumb questions,' just because I have no idea, even though I've been around forever and I'm called a veteran," Spratt said.
"I just had to laugh at myself. But everyone was just so welcoming, happy and relaxed. There were nerves, but as soon as I stepped foot in the team and around the people, it was just excitement, happiness, and motivation for what was to come."
"I still feel like I can get more out of myself"
One of the benefits of being among the peloton for as long as Spratt is that she already knows Trek-Segafredo's director Ina Teutenberg, and she has been trade teammates with Tayler Wiles and on the Australian National Team with Lauretta Hanson and Brodie Chapman. 
Spratt said she's looking forward to becoming teammates with Van Dijk and Lizzie Deignan, especially after spending much of their careers racing for rival teams. She's also ready to learn from the experience that Teutenberg has to offer after her successful career as a racer and director.
"I feel like I've been around forever, but I still feel like I can get more out of myself and learn more. I can learn a lot, especially from those two riders and Ina," Spratt said.
Also on the team are former world champion Elisa Balsamo, Paris-Roubaix winner Elisa Longo Borghini, Lucinda Brand, and Shirin van Anrooij, for a total of 14 riders.
"This team has so many strong riders, and it would be easy for that to get complicated and the racing not to go their way, and still they work well together as a team, and they use their numbers and are very sharp tactically," Spratt said.
"Ina has done a great job of bringing all these riders together and making that happen. I'm looking forward to just having that strength and hopefully being in good shape myself, being there in the finals, and being able to sort of play the game a bit more."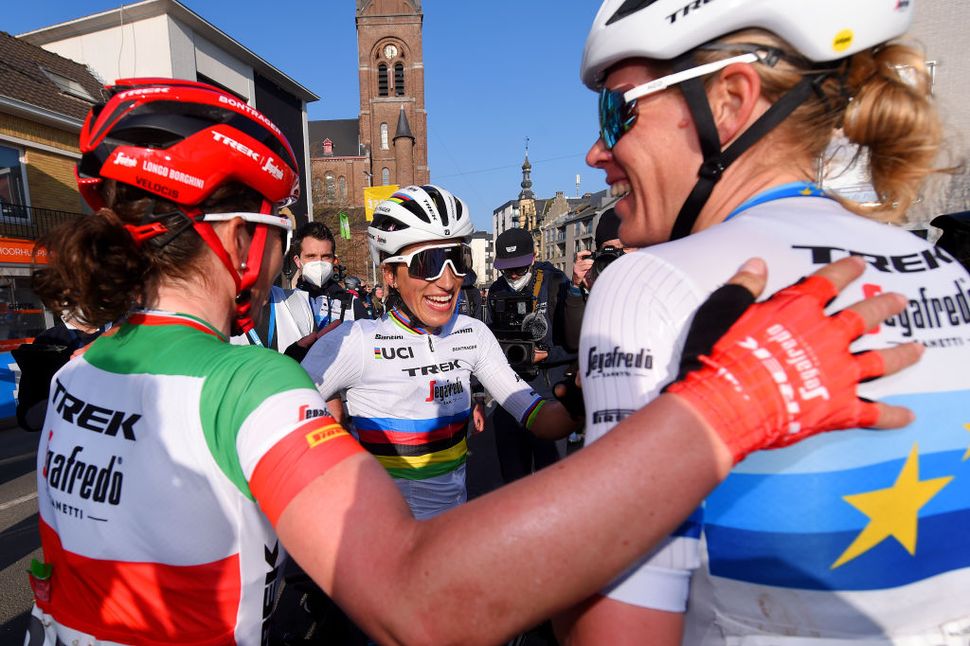 No retirement in sight
Trek-Segafredo's general manager Luca Guercilena has outlined a vision of success for Trek-Segafredo, and Spratt said that there appears to be both pressure and motivation to perform at the highest level.
"One thing that's stood out for me with Trek-Segafredo was from Luca, and his explanation of his vision of the team, and in the women's team, in particular, the vision is to be the best team in the world. They've done that once, but SD Worx got the better of them this year," Spratt said.
SD Worx has won the overall team classifications in the UCI Ranking and the Women's WorldTour for six of the previous seven seasons. Trek-Segafredo was the only team to outdo the powerful Dutch team, winning both series' rankings in 2020, and they aim to reclaim those titles in 2023.
"There is that vision to be the best in the world, and I walked out of my meeting with Luca, understanding that there is some pressure there, but also just a huge amount of motivation," Spratt said. 
"They create this motivating environment where you feel supported, and everyone's behind you and wants to fulfill that vision. There's a culture that's been built up since the start of the team, and when you feel supported, you can have those ambitious goals. So, there's a little pressure, but it also makes you want to perform.
"Many people could talk about me and when I'm going to retire, but I'm stepping into this team and not even thinking about retiring. I see this amazing opportunity and want to perform well, so I feel motivated, reinvigorated and almost like a new beginning."