There's almost always a good reason to play music in the classroom. But finding a motivating, fast-paced playlist of school-appropriate songs can be tricky. We turned to the teachers in the WeAreTeachers HELPLINE Facebook group for their suggestions, and as usual, they gave us some great ideas!
We've compiled their recommendations into an energizing, school-appropriate playlist. Check out the songs below or start jamming immediately by listening to them all on our WeAreTeachers Spotify Page!
As a reminder, everyone has their own ideas about what's appropriate to share with students. Always review songs ahead of time to see if they're right for your classroom.
Our Favorite School-Appropriate Songs
2. OK OK by HOKO
5. Brand New Day by Lindsey Ray featuring Tim Myers
6. Colors by Black Pumas
8. Pompeii by Bastille
13. Me! by Taylor Swift featuring Brandon Urie of Panic! at the Disco

18. All About You by the Knocks featuring Foster the People
19. Be OK by Ingrid Michaelson
21. Levitating by Dua Lipa featuring DaBaby
25. Meant To Be by Bebe Rexha and Florida Georgia Line

28. Save Your Tears by Ariana Grande and the Weeknd
32. A-Punk by Vampire Weekend
33. Brown Skin Girl by Beyoncé, Wizkid, and Saint Jhn featuring Blue Ivy
34. Jump by Van Halen

39. Cheap Thrills by Sia featuring Sean Paul
42. Girl by Jukebox and the Ghost
44. One Week by Barenaked Ladies

46. Riptide by Vance Joy
47. Happy by Pharrell Williams

60. September by Earth, Wind, and Fire
62. MMMBop by Hanson
63. Budapest by George Ezra
64. Respect by Aretha Franklin

68. Malibu by Miley Cyrus
70. Lights by Ellie Goulding
71. Old Town Road by Lil Nas X featuring Billy Ray Cyrus
72. Havana by Camila Cabello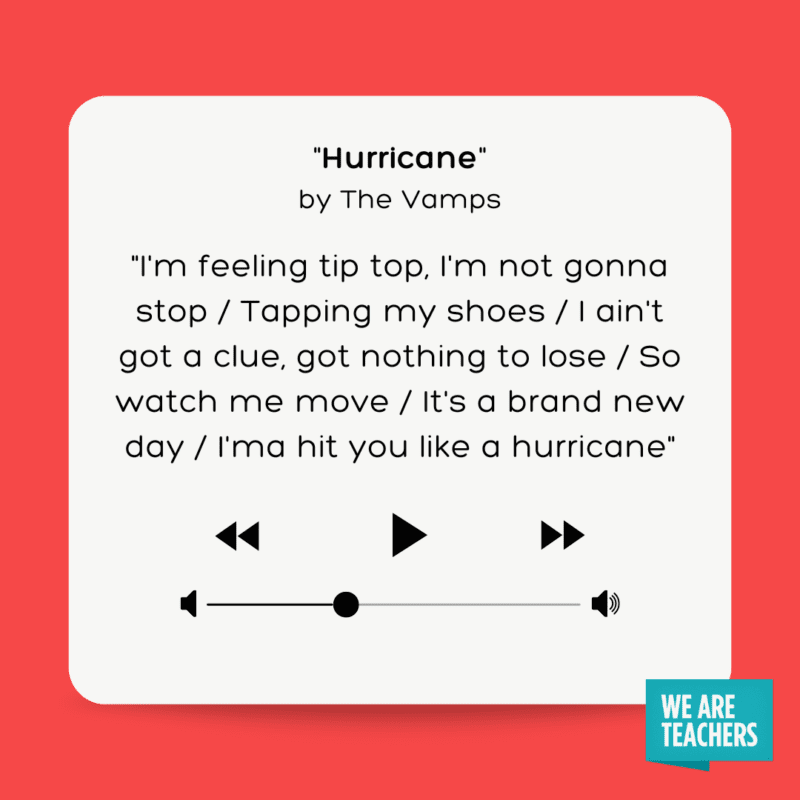 80. As It Was by Harry Styles
81. Telepath by Conan Gray
83. Left and Right by Charlie Puth featuring Jungkook of BTS
86. Celestial by Ed Sheeran and Pokémon
87. That That by Psy featuring SUGA of BTS
88. Cold Heart by Dua Lipa and Elton John
Want to try out this playlist of school-appropriate songs with your students? Check out the WeAreTeachers Spotify page for this playlist and more!