As teachers, of course we want to support kids however possible, and we know that their mental health plays a huge role in their school success. While we all experience worries and fears, many kids experience anxiety more acutely. The CDC reports that anxiety is the second-most commonly diagnosed mental disorder in kids, impacting nearly 6 million U.S. kids. However, books about anxiety can offer reassurance, build empathy, and teach kids strategies for coping. Check out this updated list of the best anxiety books for kids to share in the classroom.
Please note that reading about characters with anxiety may be triggering for certain students. We always recommend reaching out to a child's guardians or your school counselor for further guidance.
(Just a heads up, WeAreTeachers may collect a share of sales from the links on this page. We only recommend items our team loves!)
Anxiety Books for Kids: Picture Books
1. Ruby Finds a Worry by Tom Percival
Ruby's worry keeps growing and soon it's all she can think about. Help spark conversations about times this has happened to students and brainstorm strategies for managing it. (Plus, we appreciate anxiety books for kids that feature children of color.)
All of the books in the Big Bright Feelings series are awesome for the classroom!
Buy it: Ruby Finds a Worry on Amazon
2. Wemberly Worried by Kevin Henkes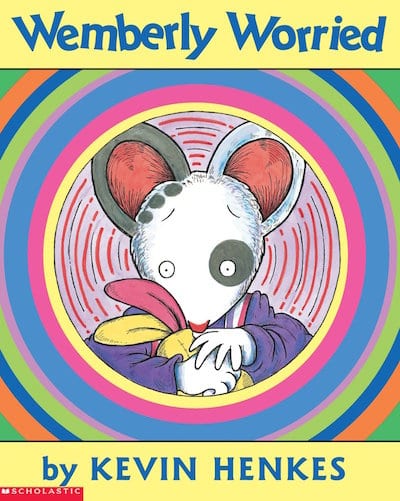 This is a beloved classic among school anxiety books for kids. Kids will relate to Wemberly's fears about starting school and learn with her as she overcomes them.
Buy it: Wemberly Worried on Amazon
3. Mae's First Day of School by Kate Berube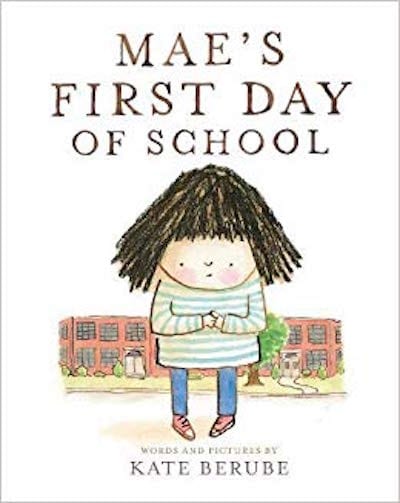 As Mae's first day of school approaches, her anxiety builds, but then she meets Rosie and Ms. Pearl, who are equally nervous. This reassuring narrative shows kids the power of expressing fears and conquering them with support from others.
Buy it: Mae's First Day of School on Amazon
4. The Don't Worry Book by Todd Parr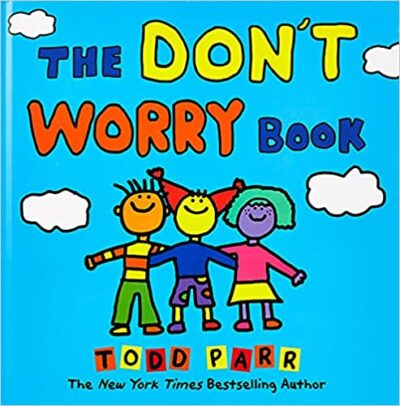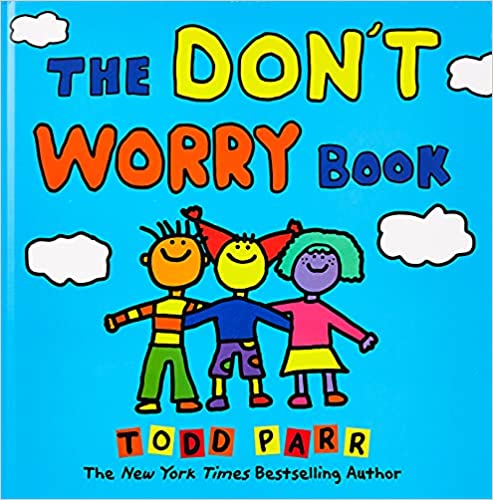 Todd Parr always helps us talk about important topics in reassuring, cheerful ways. You might worry when you're trying to sleep, when you have to go to the bathroom, when it's too loud, or when you have to go somewhere new, but there are lots of ways to manage those worries. (Even, says Todd, "Wearing underwear on your head.")
Buy it: The Don't Worry Book on Amazon
5. First Day Jitters by Julie Danneberg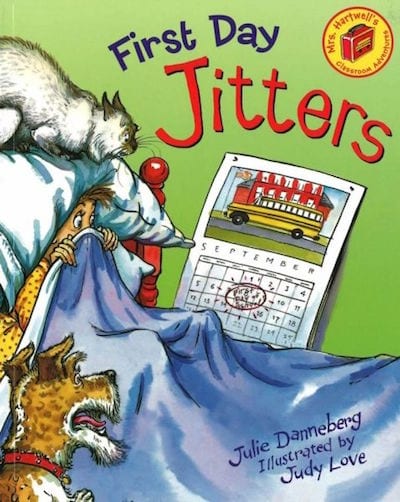 Mr. Hartwell tries to convince a nervous Sarah to come out from under her covers and attend her first day of school. When she overcomes her fear and arrives at school, readers realize that Sarah Jane Hartwell is the new teacher. Kids will appreciate the joke and be reassured that they are not alone in their first-day jitters.
Buy it: First Day Jitters on Amazon
6. The Whatifs by Emily Kilgore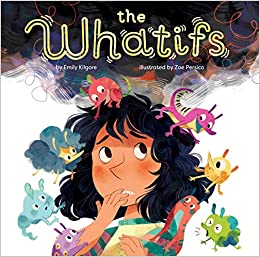 This is one of the best anxiety books for kids we've found to concretely normalize how worries can drag us down. Cora's "whatifs" are pesky creatures that climb all over her. They get worse as her big piano recital approaches. Empathy and encouragement from her friend help her get them under control.
Buy it: The Whatifs on Amazon
7. Brave Every Day by Trudy Ludwig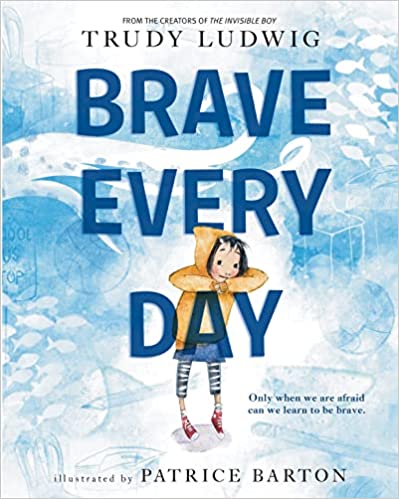 This story shows how empathetic friends can help each other manage anxious feelings. Camila and Kai experience anxiety in different ways. On their class field trip to the aquarium, they are brave together.
Buy it: Brave Every Day on Amazon
8. Puppy in My Head: A Book About Mindfulness by Elise Gravel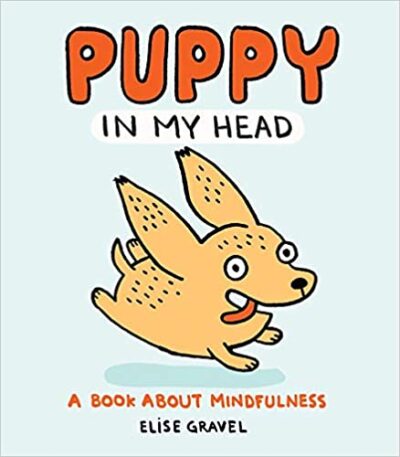 We find this to be one of the best anxiety books for kids for putting a non-judgmental spin on the topic. Help kids imagine anxious energy as a puppy in their brains. Puppies can be curious, noisy, energetic, and nervous. Things that help puppies—like exercise, calm breathing, play, and comfort—are great for anxious kids, too!
By it: Puppy in My Head: A Book About Mindfulness on Amazon
9. Catching Thoughts by Bonnie Clark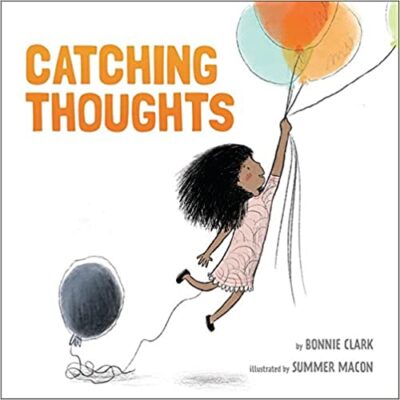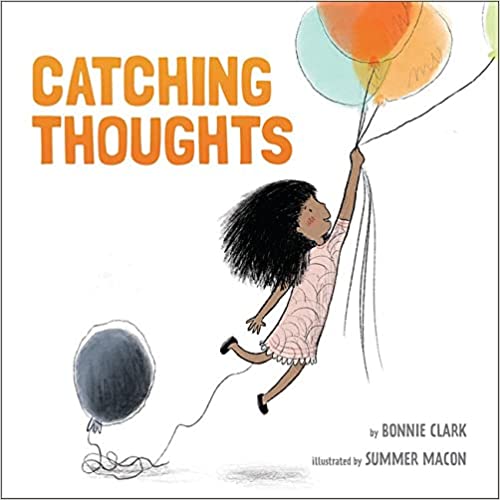 So many anxiety books for kids focus on the challenges of anxiety, but this one focuses on a possible solution. We could all benefit from learning how to "catch" new, positive, hopeful thoughts to replace the anxious ones!
Buy it: Catching Thoughts on Amazon
10. Everything in Its Place: A Story of Books and Belonging by Pauline David-Sax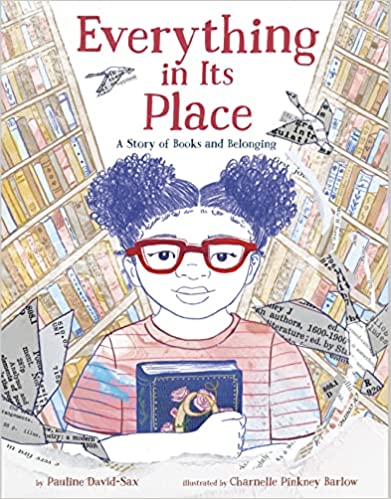 Add this to your list of empowering anxiety books for kids who struggle with social anxiety. The school library is Nicky's safe place—so what will she do when it closes for a week? This story shows kids how stepping out of one's comfort zone can be a great thing.
Buy it: Everything in Its Place on Amazon
11. Ten Beautiful Things by Molly Griffin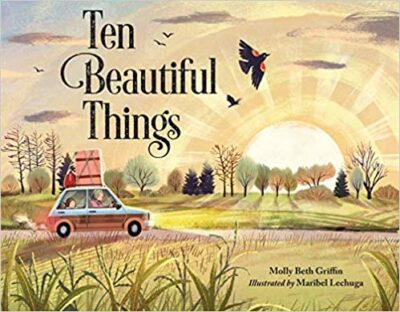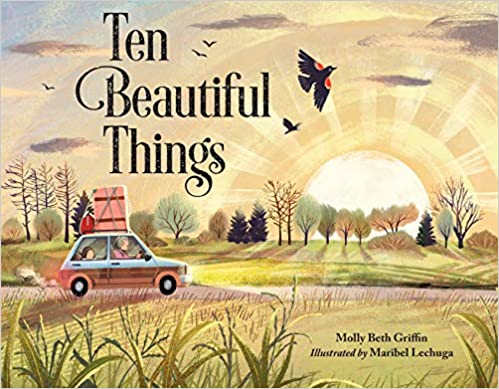 This poignant story shares a strategy kids can use right away to help manage their own anxiety. During the long car ride to get there, Lily feels anxious about her move to Gram's house. Gram helps her shift her focus to looking for beautiful things.
Buy it: Ten Beautiful Things on Amazon
12. A Kids Book About Anxiety by Ross Szabo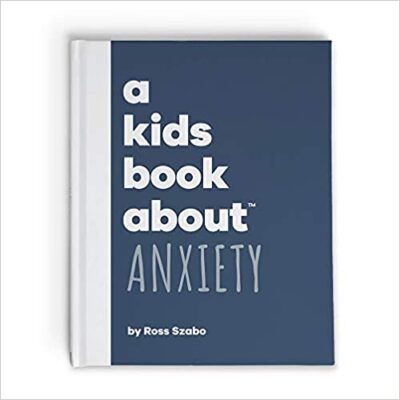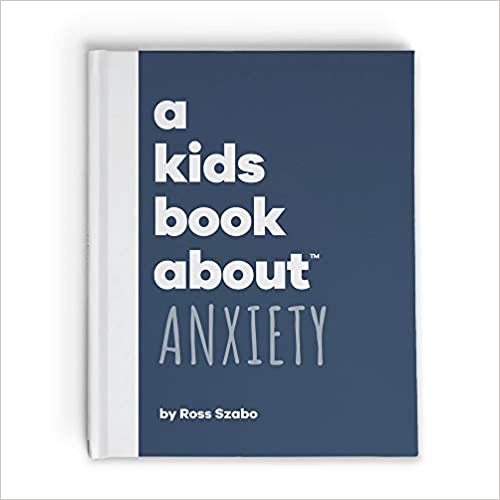 This series is so useful for giving students words to discuss tough subjects. This book explains how for some kids, anxiety is more than occasional nervous feelings. But with the right strategies and support, anxiety can be managed.
Buy it: A Kids Book About Anxiety on Amazon
Anxiety Books for Kids: Middle Grades
13. Stanley Will Probably Be Fine by Sally J. Pla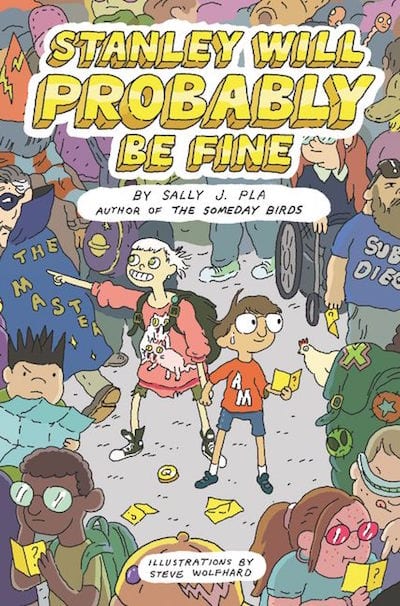 Sixth grader Stanley struggles with anxiety, which prevents him from making friends, trying new things, and participating in a comics trivia scavenger hunt. Whether they have anxiety themselves or not, readers will cheer for Stanley and will come away with some coping strategies for dealing with stress.
Buy it: Stanley Will Probably Be Fine on Amazon
14. Sidetracked by Diana Harmon Asher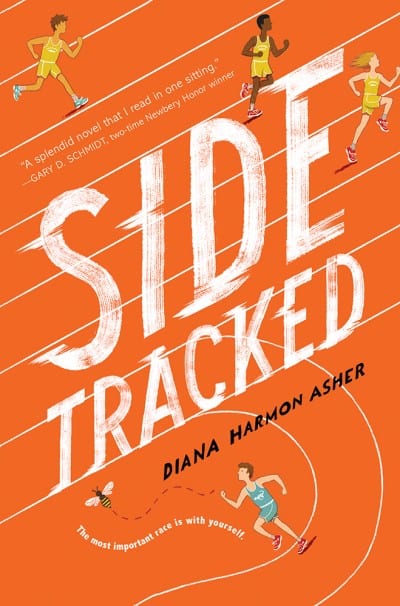 With debilitating phobias of everything from hard-boiled eggs to gargoyles, Joseph struggles to make friends at school. But when his seventh-grade teacher compels him to join the school track team, he makes an unlikely friend and finds himself off the sidelines for the first time.
Buy it: Sidetracked on Amazon
15. Five Things About Ava Andrews by Margaret Dilloway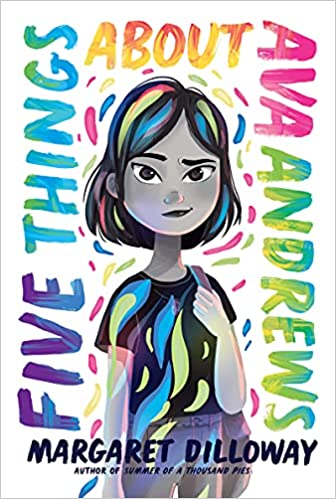 This is one of the best anxiety books for kids that features an unconventional portrayal of a kid with anxiety. Ava Andrews looks confident and pulled-together on the outside, but inside, anxious thoughts swirl. An invitation to join an improv group challenges Ava to grow in new ways.
Buy it: Five Things About Ava Andrews on Amazon
16. Better With Butter by Victoria Piontek
Twelve-year-old Marvel holds on tight to a lot of fears and worries and no one seems to be able to help her—until she meets Butter, a scared goat with a habit of fainting. Marvel helps Butter, and in turn, of course, Butter helps Marvel. Kids love this sweet and original story. Great for a class read-aloud or small group.
Buy it: Better With Butter on Amazon
17. Growing Pangs by Kathryn Ormsbee and Molly Brooks

Graphic novels make for some of the best anxiety books for kids because the images make it easy for kids to relate. On top of typical sixth grade friendship challenges, Katie has to cope with both anxiety and OCD. Inspired by the author's own experiences.
Buy it: Growing Pangs on Amazon
18. Stuntboy, in the Meantime by Jason Reynolds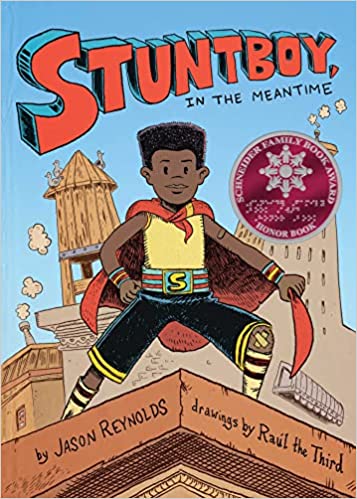 Portico has lots of reasons for anxious feelings, which his mom calls the "frets." A big one is that he's a secret superhero, Stuntboy, in charge of keeping tons of others safe and happy. This includes his parents, who are constantly fighting.  A must-have for upper elementary and middle school classroom libraries—and we are so glad it's the first in a series!
Buy it: Stuntboy, in the Meantime on Amazon
19. The Summer of June by Jamie Sumner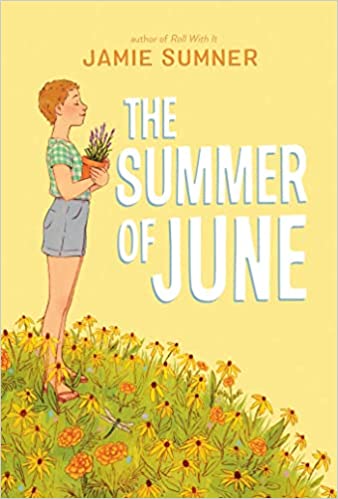 June has big summer plans to squash her anxiety for good. It takes some trial and error to figure out what she really needs to succeed. This anxiety book for kids is a great character study for kids to relate to themselves or build empathy for others' experiences.
Buy it: The Summer of June on Amazon
20. Give and Take by Elly Swartz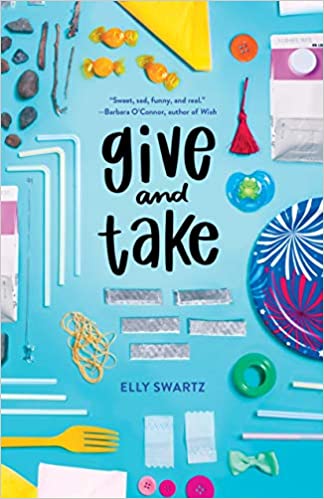 After Maggie loses her grandmother to dementia, she's determined not to lose the memories of other things she holds dear. Her anxiety leads to hoarding. Middle grade readers will be pulled right into this moving story.
Buy it: Give and Take on Amazon
21. After Zero by Christina Collins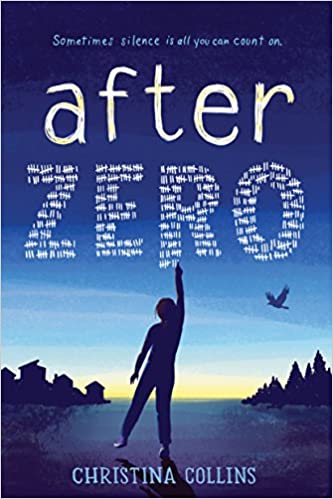 Elise manages her anxiety about saying the wrong thing in social situations … by trying not to say any words at all. This novel sensitively portrays selective mutism, an extreme type of social anxiety.
Buy it: After Zero on Amazon
22. Anxiety Sucks: A Teen Survival Guide by Natasha Daniels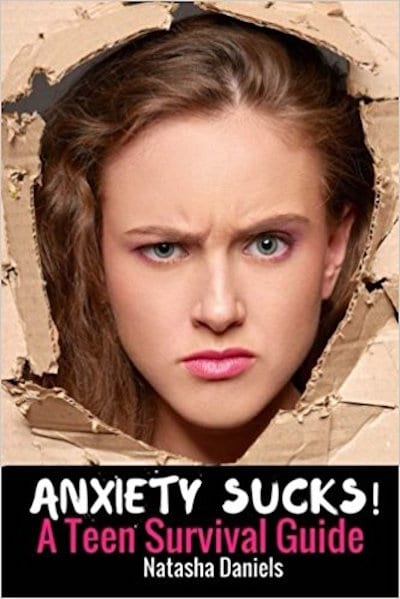 Written by a therapist who has firsthand experience with anxiety, this is a great book for teens to help them understand the underlying causes of their anxiety and work on practical steps they can take to manage it.
Buy it: Anxiety Sucks! A Teen Survival Guide on Amazon
23. The Anxiety Survival Guide for Teens: CBT Skills To Overcome Fear, Worry & and Panic by Jennifer Shannon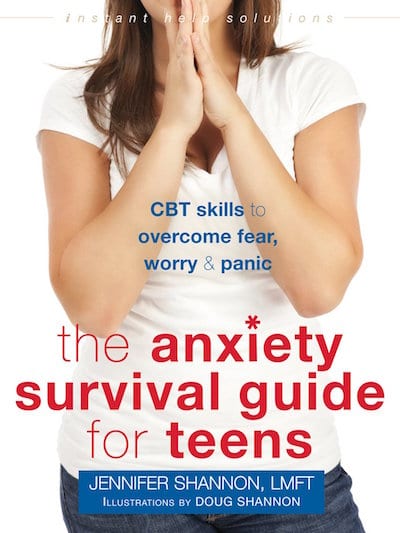 This easy-to-read book offers practical strategies to help teens overcome all kinds of anxiety-inducing scenarios by recognizing and silencing the "monkey mind," or the primitive, instinctual part of the brain.
Buy it: The Anxiety Survival Guide for Teens on Amazon
24. My Anxious Mind: A Teen's Guide to Managing Anxiety and Panic by Michael A. Tompkins and Katherine Martinez
Beginning with relaxation and moving through more complex strategies, each step in this book builds a layered approach to managing anxiety. The final chapters stress the importance of proper nutrition, exercise, sleep, and the possible need for medication.
Buy it: My Anxious Mind on Amazon